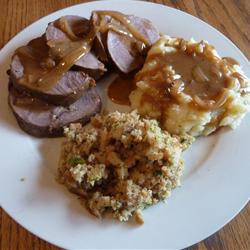 Creamy Mushroom Venison Roast
Ingredients:
1 Venison roast (Any game roast will work)
1 Ten ounce can of Cream of Mushroom Soup
1 Soup Can of water
1 Small can of mushrooms
1 One ounce packet Lipton Onion Soup/Dip Mix
Montreal Steak Seasoning
Western Style Deer Steak Seasoning
Instructions:
Mix the cream of mushroom soup with the water until the mixture is smooth.
Place the roast in your slow cooker and pour the soup/water mixture over it.
Sprinkle Deer Steak Seasoning to taste over the roast.
Sprinkle the Onion Soup Mix over the roast.
Add the mushrooms keeping as many on top of the roast as possible.
Sprinkle Montreal Steak Seasoning to taste.
Cook in slow cooker on low for eight hours.
Baste thoroughly with the liquid at four and six hours.
If you want, use the leftover liquid to mix with a blonde roux for venison mushroom gravy which is outstanding both over the meat and/or mashed potatoes.